3Commas vs Pionex: An In-Depth Review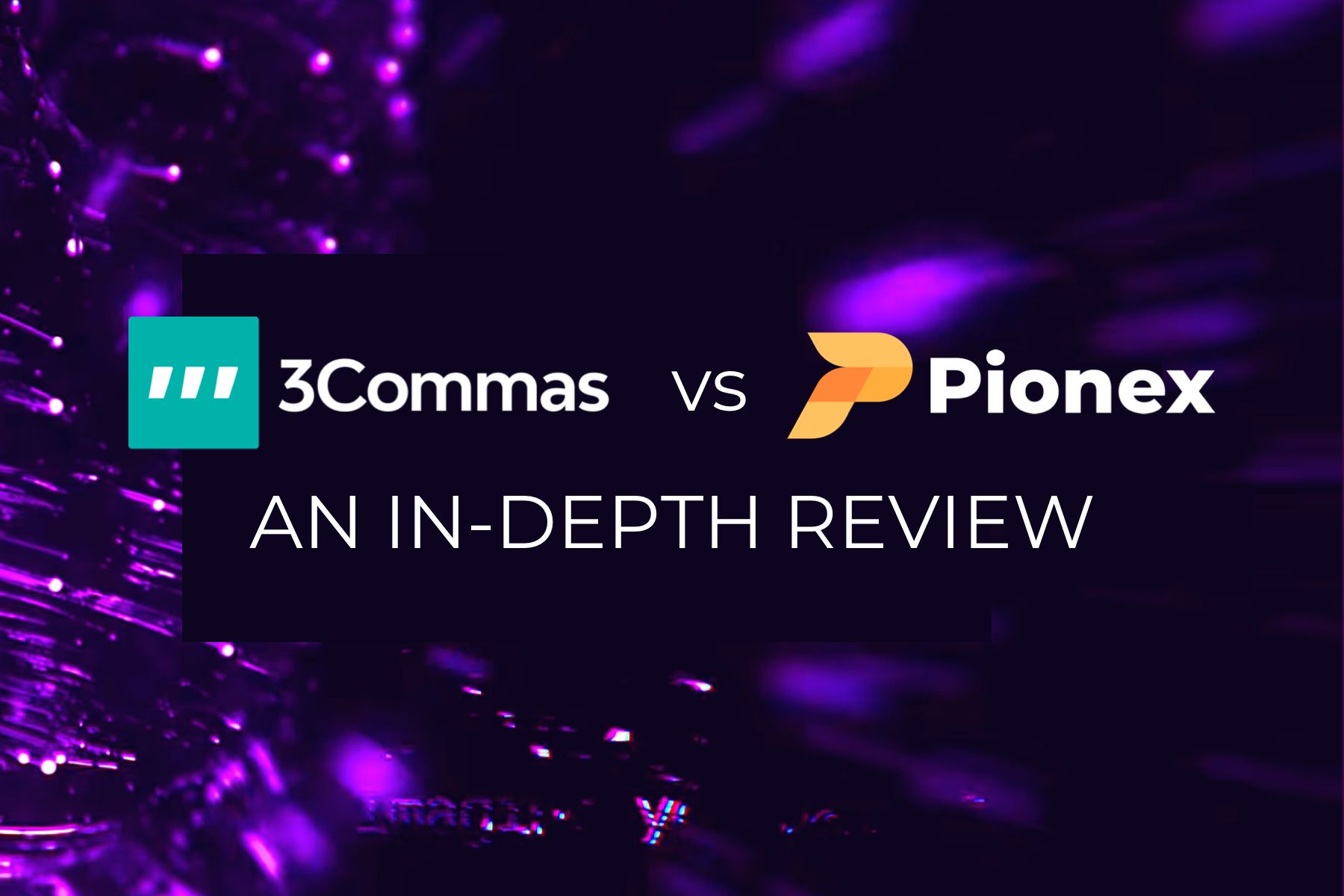 Let's face it, trading crypto is not as easy as it might seem from watching YouTube videos. If you treat trading seriously, you know that it requires a lot of time for researching and executing trades.
Luckily, today there is plenty of crypto trading bots on the market to help you save time, maintain sanity, and still make profits in crypto. In this post, we'll review two well-known crypto bots — 3Commas and Pionex — and compare them to Stoic, a smart way to automate your crypto trading with AI.
What is 3Commas?
Founded in 2017, 3Commas is a platform for automated crypto trading. 3Commas connects to 23 crypto exchanges via API and executes trades across all different exchanges from a single interface.
Yet 3Commas is probably best-known for its crypto trading bots.
3Commas crypto bot strategies
There are three types of crypto trading bots on 3commas:
DCA bot strategy: Short for dollar-cost averaging, DCA crypto bots buy crypto at fixed intervals (every day or week, for example) to get a better price and avoid buying at the top. This is very useful for bearish or highly volatile markets.
Grid crypto bot strategy: This bot builds a grid of buy and sell orders, aiming to buy when the price dips and sell when it rises. Of course, it's easier said than done. To set up the bot you must first define the lower and upper bounds at which it should trade. This strategy should work best in a sideways trend with significant volatility. But if the trend changes, you'll either end up holding a position in the red (if the price falls) or missing the gains by being without a position (if the price surges).
Options bot: 3Commas' options bot is a great way to visualise and automated advanced options strategies such as strangles and spreads. 3Commas also illustrates the P&L for different strikes and expiration dates. However, this is not a strategy that can run on autopilot. You'll need to create new strategies every time your trades are executed.
Additionally, 3Commas has a Signal Marketplace, where users can subscribe to trade signals from experts. Some signals are available for free while others are priced at $10-$30 a month.
3Commas profitability
It's hard to evaluate the exact profitability of 3Commas crypto trading bots because users define the parameters.
The profitability of a DCA bot would depend mostly on the market trend. If the trend is strongly bullish, it would be more profitable to buy as soon as possible with a lump sum before the price increases further. On the other hand, in a volatile market with no clear trend dollar-cost-averaging might give a better entry price.
The profitability of a Grid crypto trading bot would depend on finding a trading pair that moves sideways with relatively high volatility. Unfortunately, this is usually clear only in the hindsight.
Finally, the profitability of an options crypto bot is the same as the profitability of the options it would buy. You can simply buy the same options right on Deribit but it's easier to do that from 3Commas, especially if you also trade on other exchanges.
For Signals Marketplace, there is no easy way to assess profitability. Each signal's page shows recent signals (with a 24 hours delay) with P&Ls, but that's hardly enough data to reach a conclusion.
3Commas security
As with any crypto bot platform, the security of 3Commas depends on the exchanges it uses and the way it is handling user data.
3Commas connects to exchanges via API keys. Usually, these keys only enable trading and do not allow withdrawals. So even if you accidentally leak the API key, the attacker would not be able to withdraw your assets.
While 3Commas don't go into details about their security protocols, the company became one of the first official brokers on Binance.
3Commas pricing
All 3Commas' products, including crypto trading bots, come with monthly subscriptions.
The prices range from zero for the 'free' tier, which includes one of each bots, to $99 for the PRO tier, which includes unlimited crypto trading bots. If you pay for a full year upfront, you can get 50% off.
3Commas supported exchanges
Currently, 3Commas supports 23 crypto exchanges. However, not all exchanges support all the features.
3Comams crypto trading bots — the DCA and Grid bot — are available on Binance, FTX, Bybit, BitMEX, and Coinbase Pro.
Now that we've reviewed 3Commas, let's explore Pionex.
What is Pionex?
Pionex is a crypto exchange with several crypto trading bots that are offered for free. It's a relatively small exchange: it ranks as number XX on Coinmarketcap in terms of its trading volume.
To aggregate liquidity, Pionex uses Binance and Huobi, two of the largest exchanges. Pionex is also a member of Binance Broker program.
Pionex strategies
There are several types of crypto trading bots on Peonies:
DCA bot: This crypto bot essentially helps to buy crypto using dollar-cost averaging, i.e. buying with the same dollar amount at regular intervals. In highly volatile markets, this approach helps to get a better average price and avoiding the risk of buying at the top. It's most useful for building a long-term position.
Grid bot: Like with 3Commas, this crypto bot aims to buy low and sell high by creating a chain of orders around user-defined settings. There is also an option to use AI Strategy, which is based on historic data for the past 7 days. Again, the hardest part is selecting a trading pair that will fluctuate in a sideways market. Crypto is notorious for sudden double-digit breakouts, both up and down.
Arbitrage crypto bot: This strategy takes advantage of inefficiencies between the spot and futures markets. The bot simultaneously buys a long position in a spot market and a short position in a perpetual futures contract for the same asset, pocking the so-called funding rate, which is paid from long perpetual holders to short perpetual holders (or the other way round in some markets).
Pionex profitability
Like with other DCA bots and Grid bots, it's hard to evaluate profitability because it mostly depends on selecting the right trading pair during the right market trend.
The Pionex arbitrage bot has APR of 15%-50%, according to the company's website. This looks realistic given that the bot relies on a well-known arbitrage opportunity between the spot and the futures markets. Furthermore, this is a relatively low-risk strategy.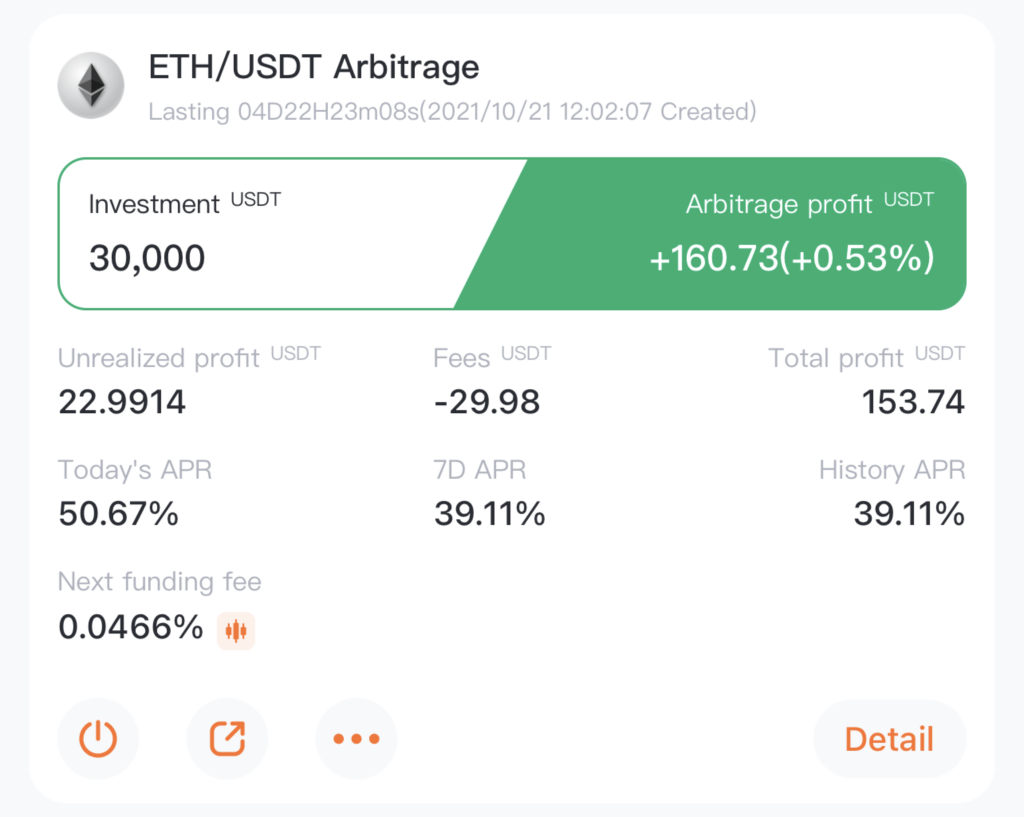 Pionex security
So far, Pionex has run for over 800 days with no security incidents.
The main source of risk for Pionex comes from the fact that it's a new exchange into which you must transfer your hard-earned crypto. So unlike, 3Commas and other crypto trading bots, you actually need to deposit crypto (there are no fiat funding options).
Pionex has an MSB (Money Services Business) license by FinCEN, a US regulator that combats money laundering. However, on Pionex US residents can only use the spot market, which means the arbitrage bot is not available for them.
The arbitrage bot has a cap of $100k per user. This is done to limit the risk and cover any Black Swan event from the company's separate fund.
Pionex pricing
Most bots on Pionex are free. Of course, as an exchange Pionex will still charge taker and maker fees for each transaction.
The arbitrage bot on Pionex charges a 10% fee on profits in addition to exchange fees.
Pionex's supported platforms
Because Pionex is an exchange, their crypto trading bots are only available on their own platform. It's highly unlikely that they will ever support external exchanges.
3Commas vs Pionex at a glance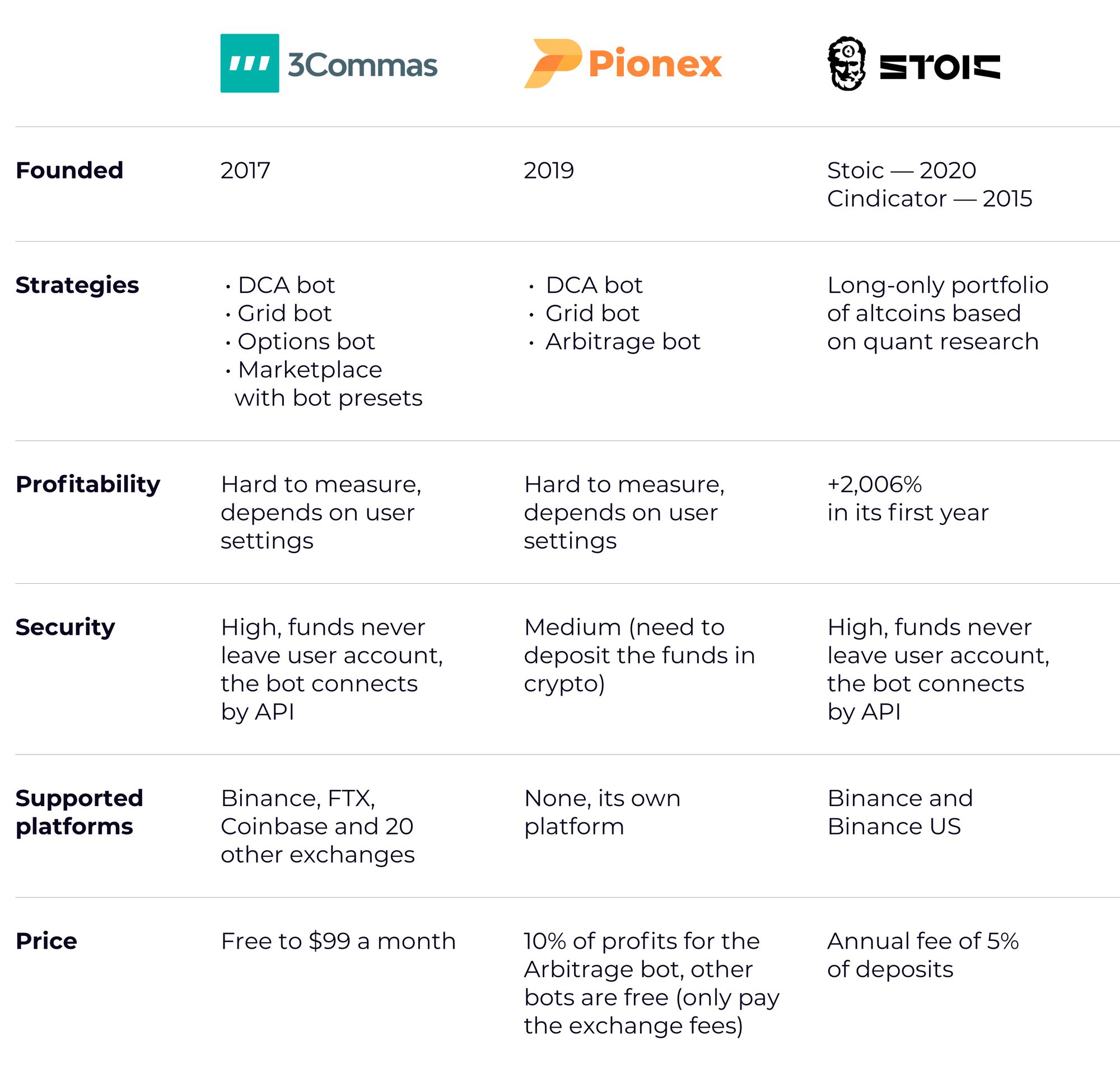 To sum up, both 3Commas and Pionex run DCA and Grid crypto trading bots, which the user must set up. There is a great potential for profitability yet it mainly depends on the user's skills and experience.
Furthermore, Grid bots are also not passive: the user must regularly check the crypto bot's trading pair to ensure that it is still trending sideways with enough volatility.
Pionex's arbitrage bot is an interesting strategy with relatively low risk. This bot is truly passive and uses a well-known arbitrage opportunity between the spot and the futures market.
However, the main risk is custody. Instead of connecting via API to an established exchange like Binance, the user must send crypto to Pionex.
The Alternative to 3Commas and Pionex: Stoic
One of the alternatives to 3Commas and other crypto trading bots is Stoic by Cindicator.
Like 3Commas, Stoic connects to the user's Binance account via API keys. So unlike with Pionex, there is no additional custody risk of sending crypto to a relatively small exchange.
Stoic's advantage over most bots in the market is that it's a passive strategy. Once you connect Stoic to your Binance account, there is nothing else to do. The algorithm will start building and rebalancing a portfolio of altcoins based on quant research.
Most importantly, Stoic's strategy has already demonstrated outstanding performance. In its first year, it made +2,006%, beating both Bitcoin and most other benchmarks. This performance is fully transparent — there were both ups and downs, it's not magic.
Stoic is available for a low 5% management fee, paid upfront. The minimum required starting balance on Binance is just $1,000 in any crypto — for that balance the fee would be just $50 for the whole year.
You can review Stoic's live performance of the team's account right after signing up.
📈
Who is Cindicator?
Cindicator
is a world-wide team of individuals with expertise in math, data science, quant trading, and finances, working together with one collective mind. Founded in 2015, Cindicator builds predictive analytics by merging collective intelligence and machine learning models.
Stoic AI
is the company's flagship product that offers automated trading strategies for cryptocurrency investors. Join us on
Telegram
or
Twitter
to stay in touch.
---
Related articles:
The Ultimate Guide to Stoic's Long-Only Crypto Strategy
Mudrex vs 3Commas: An In-Depth Review
Shrimpy vs 3Commas: An In-Depth Review