Mudrex vs 3Commas: An In-Depth Review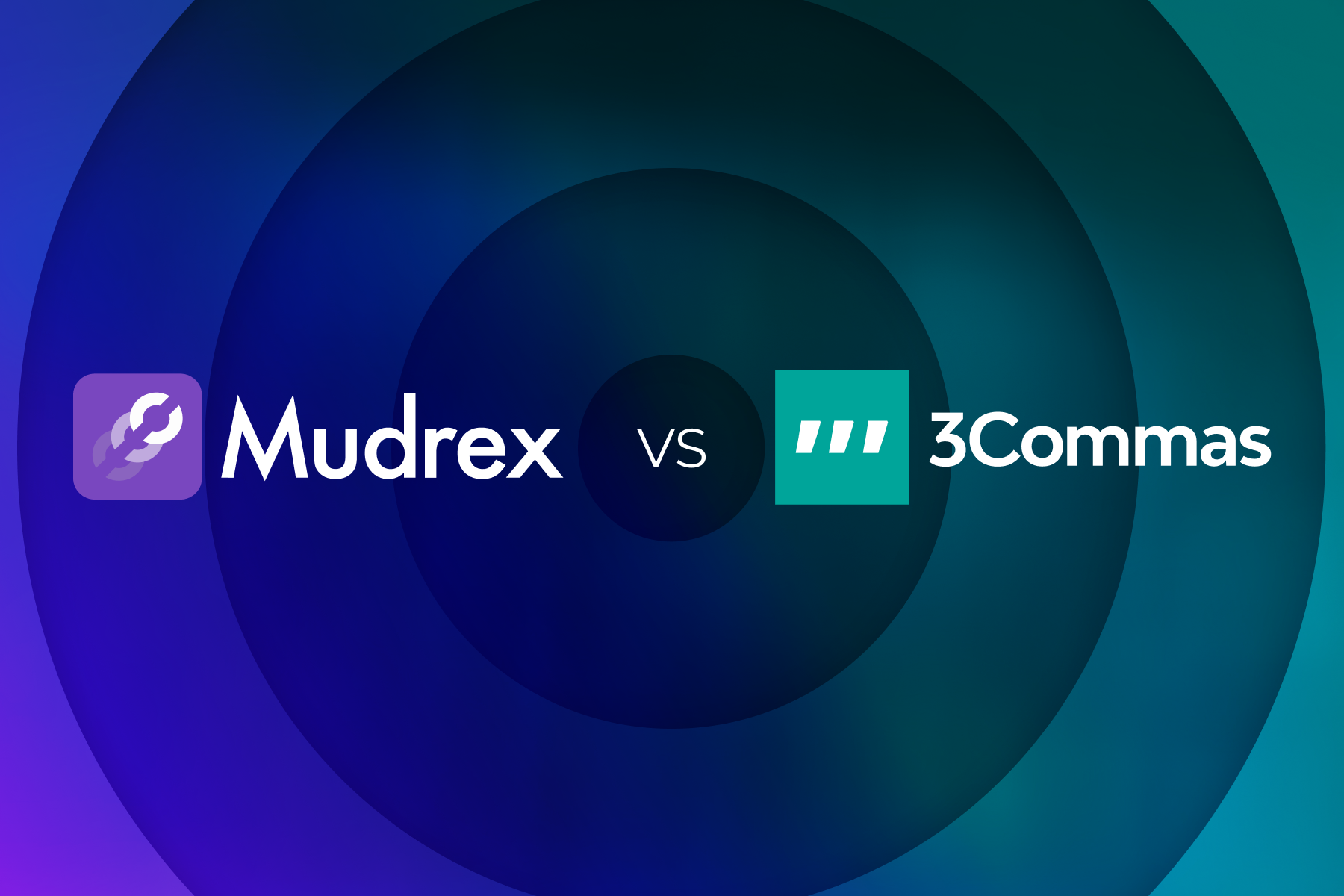 Gone are the days when crypto investors had to rely solely on their own trading skills or resort to passive holding. Today there are many options for actively managing a crypto portfolio with automated crypto trading tools — more commonly known as crypto bots.
In this post, we'll review two popular crypto trading bots: Mudrex and 3Commas. While both are used for automated crypto trading, these tools utilize different approaches to achieve desired results.
What is Mudrex?
Mudrex is a crypto investing platform that aims at simplifying the investment experience. The company wants everyone, not just high-net-worth individuals and organizations, to have access to financial tools that have the power to change their futures forever.
With Mudrex, users can connect their crypto exchanges or deposit funds directly into a Mudrex wallet. After that, users have two investment options:
Select one of the ready-to-use crypto portfolios,
Or build their own investment strategies using a visual strategy builder.
At the user level, the service is simply an app that can be downloaded on a mobile device for easy login and management on both Google Play and the App Store. The app is simple to navigate and is optimized to deliver the best and easiest trading experience around.
Mudrex strategies
New users can simply invest in one of the pre-built strategies. More advanced users can build their own portfolios with algorithmic rebalancing.
The pre-built strategies are grouped into three categories:
Coin Sets — these are baskets of cryptos grouped by themes such as Defi, Metaverse, tokens issued by crypto exchanges, etc.
Mudrex Mints — low-risk, automated trading strategies with returns that are generally higher than holding BTC.
Algos — a marketplace of algorithms built by top traders and available for different exchanges and assets.
You can also build your strategy using 'Build', a visual strategy builder.
The strategy builder includes a wide range of options:
Signals based on price, volume, and other indicators such as moving averages
Trend and pattern recognition
Logical connections such as 'AND', 'OR', and 'NOT'
A strategy could be as easy as buying at a certain price or as complex as you want.
Once you've defined your strategy, you can run a back test, paper test, or live trading test right within the Mudrex platform.
Mudrex profitability
The great thing about Mudrex strategies is that it's easy to see the past performance or at least expected profitability.
For example, here is the profitability of a Medium Risk Mint, which trades perpetual futures for USDT pairs with BTC, ETH, ADA, MATIC, and BNB.
For each mint, Mudrex also shows additional statistical information about the past performance, including win rate, drawdowns, Sharpe ratio, and more. There is also a list of past trades with it's maximum drawdown and the final PnL.
Mudrex security
It's clear that the Mudrex team takes security seriously, as hackers are alive and well in any and all financial markets worldwide. No matter which region of the world where you reside, bad actors are constantly trying to break systems and manuever their way into
Mudrex is a Binance Broker and uses AWS, GCP, and Microsoft Azure cloud platforms. Also, all user data is encrypted with AES 256, and access to it is limited to whitelisted IP addresses.
To further strengthen access to user profiles, Mudrex uses 2-factor authentication: email confirmation and Google authentication.
Mudrex pricing
The company charges different fees for different products. This comes as no surprise as many other companies with similar product lines also charge various fees depending on which product a customer chooses.
For Coin Sets, there is currently no fee. This is only for a limited time as it's an experimental product. However, the company likely also earns money with so-called rebates from connected exchanges, which share their transaction fees with Mudrex.
Mudrex Mints charges a monthly fee of 1% of the strategy's account. If the market goes down and the strategy loses money, this fee is refunded for that month.
For Algos, there are two fees based on the invested amount: the Mudrex fees and the fee set by the creator. Again, the fees are charged on a monthly basis.
Mudrex supported platforms
Currently, Mudrex works with several cryptocurrency exchanges in the spot and perpetuals market.
Mudrex supports spot crypto exchanges:
Binance and Binance US
OkEx
Coinbase Pro
Mudrex supports perpetual futures with these exchanges:
Bitmex
Bybit
Deribit
Binance futures
OkEx Futures
FTX
Mudrex says that more exchanges will be connected soon, including HitBTC, Kraken, Poloniex, Huobi, and Bitfinex.
What is 3Commas?
Founded in 2017, 3Commas is one of the leading platforms for automated crypto trading. It offers a wealth of options for creating trading bots, as well as utilizing pre-made bots that trade on your behalf.
The company aims to make crypto trading not only easy for investors, but worth while as their products can perform well in bear, bull, or sideways markets. Advanced trading tools are at your fingertips for use on 17 different exchanges around the world.
3Commas strategies
Like Mudrex, 3Commas gives its users the freedom to create their own trading strategies.
Of course, creating a custom strategy requires a lot of time and skills. Any algo strategy simply automates what the trader would have done manually. If you aren't confident in your trading skills, automation won't help. And while automated trading helps to save time on execution, it still demands regular reviews to ensure that market conditions haven't changed significantly.
Luckily, this service also offers two relatively simple strategies that are easy to set up and ready-to-use presets.
The two main trading strategies on 3Commas are:
DCA Bots — this is a way of investing a fixed sum during regular intervals in order to avoid buying at the top just before the market falls. Instead, in a highly volatile market, buying in smaller chunks can give a better average entry price.
GRID Bots — this strategy places a chain of buy and sell orders, creating a grid. The idea is simple: buy low and sell high. Yet this works best in sideways markets with high volatility. If there is a clear upward trend, you'd end up without a position. And if there is a downward trend, you can end up holding a losing position that you would have to close manually.
3Commas profitability
Because their strategies are largely defined by the user, it is hard to evaluate the overall profitability.
Trading Bot Presets show profitability for the past month. After clicking through to a preset, you can see the daily profit for the last 30 days.
Unfortunately, however, one month is not enough to fully evaluate the profitability of a strategy. Furthermore, conditions are subject to change.
3Commas security
As one of the official Binance Brokers, 3Commas takes security very seriously. If a company or product is not taking security into consideration in the 21st century, then it is in theirs and the customer's best interest to close up shop.
In reported cases when attackers stole passwords and logins of 3Commas users, the credentials were obtained through other sources, not directly from 3Commas. To prevent attackers from using leaked logins, 3Commas strongly advises enabling two-factor authorization.
3Commas pricing
There are several monthly plans, ranging from free to $99 a month. Discounts are available for paying for the whole year upfront. Usually, the free plan should be enough to try out the interface and see if a DCA bot or a Grid bot is what you need.
Pricing is relatively low in comparison to many other trading products on the market. Not to mention, the money you are spending per month or per year is likely to be recouped utilizing the trading strategies within the product itself.
3Commas's supported exchanges
Currently it supports 17 spot and derivatives crypto exchanges, including Binance, Gemini, and others. It connects to crypto exchanges via API. The process is straightforward and usually doesn't take much time to set up.
The fact is a major advantage for investors who like using one particular exchange over another. Many other trading services do not offer the ability to work with multiple exchanges.
Mudrex vs 3Commas at a glance
Both Mudrex and 3Commas could be great tools for those looking to get started in trading. Even experienced investors would benefit greatly from using the tools presented in this article. Now it is your time to determine which service to employ to help take your crypto portfolio to the next level.