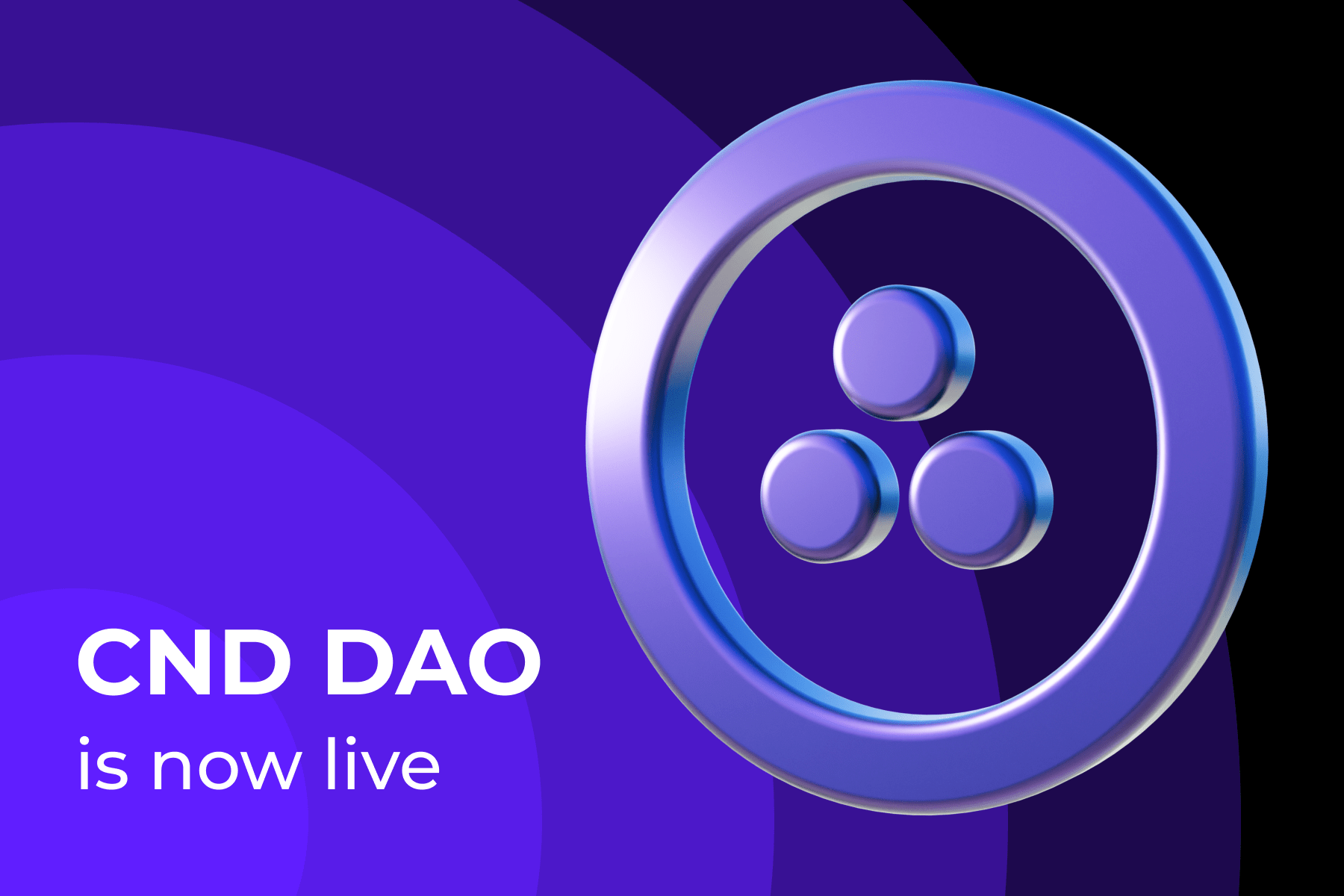 The Cindicator community and token holders, with the help of the Cindicator team, have launched the CND DAO. Join Discord and connect your Metamask with CND tokens to be part of this adventure.
In one of our previous blog posts, we shared the vision on the future of the CND ecosystem. The time has come: CND DAO is now live!
The mission of CND DAO is to develop and promote the CND ecosystem in addition to Hybrid Intelligence technology. The DAO creates incentives to further grow and decentralize the ecosystem.
The main tools helping the community to contribute to this mission are:
– DAO's Treasury
– DAO's Discord
– and DAO's Governance
CND DAO's Treasury
The CND DAO Treasury is to be filled by various ecosystem members interested in developing the Hybrid Intelligence technology. These members may include ecosystem individuals, CND token-holders, companies, or entities and products that generate revenue such as SuperForecasters, Macro Sentiments, Stoic, Emergence DAO, and so on.
Therefore, the company, Cindicator, is to grant part of its products' revenue in USDT to the DAO's treasury on a monthly basis - with the first batch being June's revenue. Cindicator will also grant 2,000,000 CND as an initial budget that might be used for monthly rewards for decentralized analysts at the Collective Intelligence Platform (read more about this below). The CND initial budget can also be burned or can be used elsewhere.
Initially, CND DAO's treasury acts as a Gnosis Safe 2/3 multisignature wallet, with the signers beginning as founders and team members of Cindicator, while in the future might be moved to trusted token holders and community governance members.
CND DAO's treasury can be spent (based on governance voting) on:
Rewards for decentralized analysts
CND Token Burn
Marketing and grants
Various proposals
Forecaster rewards
As of right now, the CND DAO is in charge of funding monthly rewards to decentralized analysts and Superforecasters. Beginning in July, the first reward shall be paid by the CND DAO on August 1st, as well as gas fees to send the rewards. CND DAO Governance may vote to increase or decrease the rewards (but not to 0), or the number of rules set in place.
Current reward system in general contests is: each month, the top 50 analysts from the crypto contest and the top 50 analysts from the traditional contest receive CND based on a proportion of 1 ranking point = 1 CND. Rewards for the Top 10 in each contest are multiplied by coefficients based on the ratings: 1st place = 10x, 2nd place = 5x, 3rd place = 3x, 4-10th place = 2x.
Current reward system for Superforecasters is: SuperForecasters are rated based on predictions for Bitcoin's weekly minimum and maximum price level questions. On a weekly basis, analysts become members of three leagues: Weekly, Monthly, and Premier.
The league placement depends on the total number of Bitcoin's minimum and maximum level answers. The top 10 analysts by PnL get rewarded: Weekly League - $5 per user; Monthly - $10 per user; Premier - $20 per user. Read more details here.
Token Burn
CND DAO may vote to burn CND to decrease the total supply. Burning is completed by transferring CND to the burn address: 0x0000000000000000000000000000000000000000
There were 2,000,000,000 CND issued, and, with the inclusion of Token Burn, CND becomes deflationary in nature.
Marketing & Grants
The CND Community is innately creative and supportive. Consider Calvin XTZ, who has been helping customers understand Hybrid Intelligence indicators for years. Pa Ma, Johny "xkradx' M, Lin K. and Van Tran have been consistently helping members navigate through the CND Ecosystem. We believe that such valuable activity may and should be supported with grants by CND DAO.
CND DAO can distribute grants to valuable ecosystem members such as analysts, capital introducers, affiliate partners, trading strategy builders, influencers, marketing specialists, developers, auditors, and so on.
Large opportunities exist for marketing the CND DAO, Hybrid Intelligence, and Cindicator products such as Superforecasters signals, Macro Sentiments, Stoic, among others. Marketing these products has the potential to increase awareness and the number of customers, which, in turn, will increase sales and the monthly revenue sent to CND DAO Treasury.
Discord
Discord is CND DAO's primary communication channel. Everything related to governance shall be discussed in that chat. Also, Discord is the only place where members are allowed to discuss Cindicator Edge's indicators. The reason is simple - we use the Collab Land Bot to verify the amount of CND you hold and to apply a role with a corresponding tier.
The following tiers are currently presented:
1. CND Club: Min CND to be held: 2,000,000. This tier can also be granted by the Cindicator team to the most active and valuable community members.
2. Expert: Min CND: 700,000 Max CND: 2,000,000
3. Trader: Min CND: 200,000 Max CND: 700,000
4. Explorer: Min CND: 30,000 Max CND: 200,000
5. No tier: Min CND: 0 Max CND: 30,000
Join the CND DAO Discord now: https://discord.gg/KkZ8kyFZ2y and go to CND-TIER-VERIFICATION to connect your Metamask and have a tier assigned. After verification is complete, feel free to chat in a corresponding tier's channel.
Governance
CND DAO will use snapshot.org's voting. Any CND token holder can vote on proposals. Anyone with more than 2 mil CND tokens is able to submit proposals. The proposals related to CND DAO's treasury are to be executed by the DAO based on the number of token holder votes.
CND DAO can also submit proposals towards the Cindicator company and its products. The company commits to review and reply to every legitimate proposal, however, it is not officially binded yet and cannot execute until approved by Cindicator.
It is not possible to burn 100% of the monthly grant received by the DAO as the forecasters should be rewarded first to keep the whole ecosystem working. After the forecaster rewards are distributed, the DAO could vote to:
burn the remaining tokens
spend on marketing or grants
keep the funds for future use
manage the assets and make some allocations as short-term trades and long-term investments.
What's next?
June's grant from Cindicator shall be distributed in the beginning of July. Throughout July, the CND DAO shall discuss how to distribute it in regards to how many CND should be sent to analysts, how many should be burned, and so on. The same process will take place each month.
There's one more piece of exciting news - a new, fascinating product is coming - Emergence DAO! This product is purely a Web3.0 DeFi / GameFi experimental product featuring Hybrid Intelligence technology and SuperForecasters - and the group intelligence of wild bees, of course. Stay tuned!
It is imperative to understand that it is all an experiment and results depend largely on your personal creative force and our collective intelligence collaboration – we all are a part of Hybrid and Symbiotic Intelligence.
FAQ's
How will you define what percentage of products' revenue will be granted to CND DAO?
The centralized company, Cindicator, is considering monthly grants as a part of its marketing budget. The percentage of revenue shared depends on the level of involvement of Hybrid Intelligence technology in a certain product - the bigger the value generated by HI, the bigger percentage of revenue granted.
The percentage also depends on other costs of supporting a given product (salaries, servers, marketing and so on) besides the cost of Hybrid Intelligence (analysts rewards and marketing).
Most of all, it will depend on the response and involvement of the community into contributing to CND DAO and contribution of CND DAO to the whole evolution of the Hybrid Intelligence ecosystem. These relationships will evolve based on trust and collaborative creation within the community.
If the initial experiment with CND DAO goes well, in the next phases, this portion of relationships might move to smart-contracts and become part of the next step of the Hybrid Intelligence decentralization process.
What is the scope of proposals that CND DAO may vote on?
CND DAO is fully responsible for managing its treasury, and these proposals are executed immediately. CND DAO also can propose ideas to the centralized Cindicator company, but the company is not obliged to implement any of them. However, Cindicator will weigh in and reply to all proposals.
If I change the token numbers on my wallet, do I have to re-register?
No, the Collab Land bot in Discord is tracking your wallet automatically and will adjust the role accordingly.
Are there any new contests planned for the C.I. Platform that will receive the DAO reward?
It's up to DAO to decide - but we believe there will be even more activities from now on, as hundreds, if not thousands of token holders will be actively involved in developing the ecosystem.
When do you plan to start exactly?
It has already started! The first batch of funds will come to DAO's Treasury in a couple of days which shall then be distributed.


Disclaimer:
Notwithstanding the foregoing, there are absolutely no guarantees and representations in relation to CND token ("CND"). CND is provided as is. CND, including its functionality and plans for it, may be changed at any time. Also, for any reason and at any time, CND DAO may not be released at all or its support / development may be discontinued.
In relation to CND, you are solely responsible for complying with all laws that apply to you, including for the payment of all taxes that apply to you. You also assume all legal, economic and other risks in relation to CND, including its legal uncertainty, market volatility (variability), information security risks and others. CND DAO is not associated with any of our legal entities, Cindicator or Stoic. If you do not agree with this, please close this site.
Cryptocurrencies and blockchain technologies have been the subject of scrutiny by various regulatory bodies across the globe. Cindicator makes no representation regarding the application to your use of Cindicator products of any laws, including, without limitation, those relating to gaming, options, derivatives or securities.
All the materials provided on the site (including graphic materials regarding P&L of the trading strategies) are provided solely for marketing and informational purposes and do not guarantee profit in the future.
Depending on the jurisdiction, the use of Cindicator products may be restricted. You agree that Cindicator is not responsible for determining whether or which laws may apply to you and your use of Cindicator products. Cindicator may restrict the use of its products for citizens and residents of certain jurisdictions.
Cindicator and Stoic is not a broker-dealer, exchange, custodian, or wallet provider, and is not intended for frequent trading activity. Investing in digital assets is highly speculative and volatile.