Titan Crypto vs Coinbase: An In-Depth Review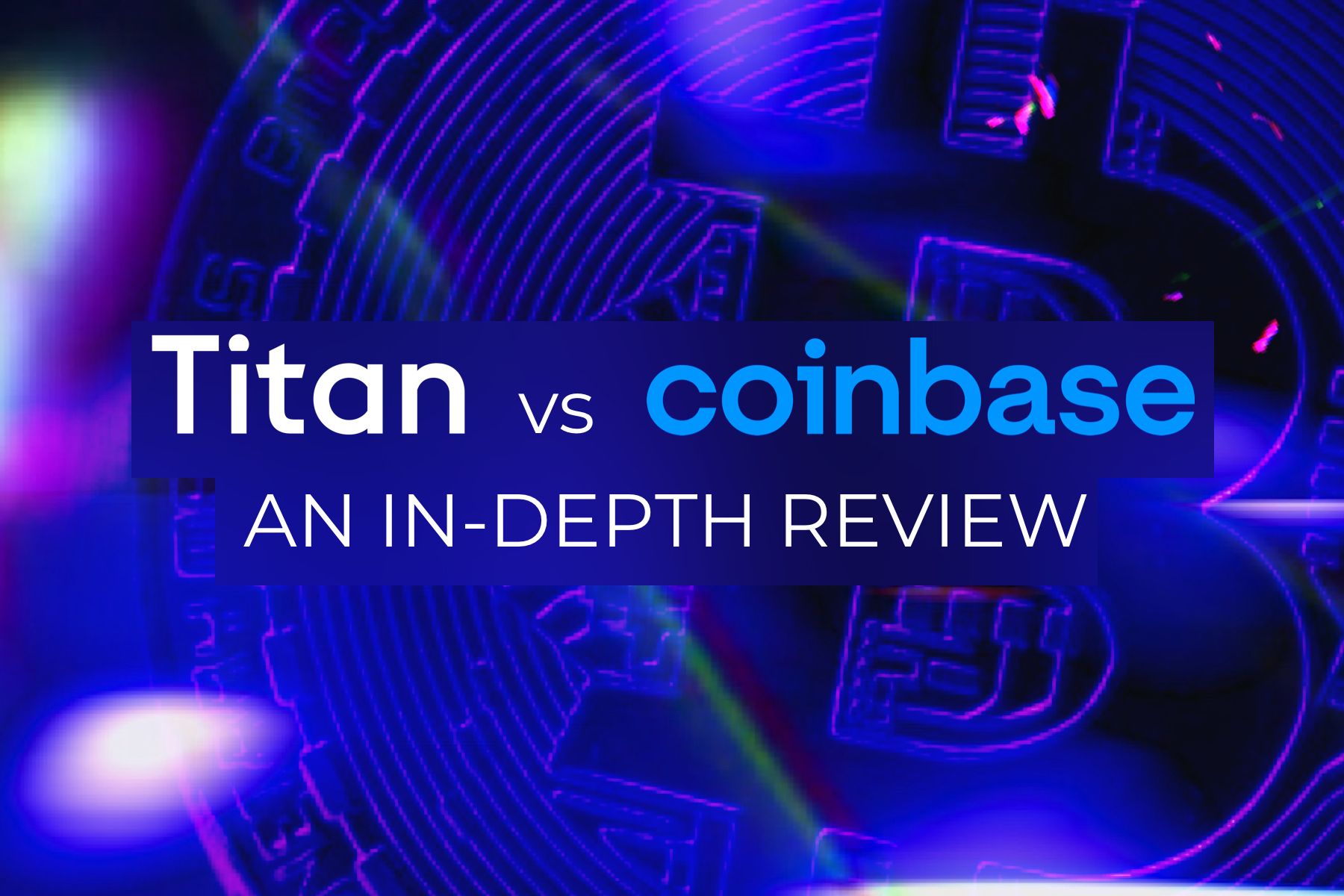 Gone are the days when investing in crypto was limited to just buying and holding Bitcoin. Today, new crypto investors can benefit from a wide range of new investment strategies and tools that didn't exist just a few years ago.
In this article, we'll review Titan Crypto vs Coinbase, two popular solutions for new retail investors who are just entering the crypto market.
What is Titan Crypto?
Founded in 2018, Titan Invest is an investment adviser offered in the form of an app. They position themselves as "a hedge fund in your pocket" and merge the traditional asset management approach with modern technology.
Titan offers several investment strategies, most of them are in the stock market and one is in the crypto market.
Titan Crypto strategy
Titan Crypto is the crypto investment strategy offered through Titan Invest.
It is an actively managed strategy with positions in 5-10 cryptocurrencies with large capitalizations.
While Titan's monthly update doesn't include details about coins and their shares in the portfolio, they've previously said that they their fund holds Bitcoin, ETH, LINK, ALGO, and ADA. More recently, a "trade update" mentioned AVAX, LUNA, SOL, MATIC, SUSHI, and REN.
Over 2 to 5 years, Titan Crypto's objective is to beat the Bitwise 10 Large Cap Crypto Index, which tracks the top-10 cryptos by market capitalization.
Titan Crypto profitability
While Titan Invest launched in 2018 they have only introduced their crypto strategy in August 2021. So it's a bit early to judge the profitability.
On their website, Titan Crypto states an annualized return of 329.8%, noting that these are short-term results to date and are not necessarily indicative of the future.
Titan Crypto specifically and consistently points out that they invest for the long term. Contrary to what some might think, crypto is not a get-rich-quick scheme.
Titan Crypto security
Titan takes security seriously. For protecting users' personal data they rely on Secure Sockets Layer (SSL) and 256-bit encryption.
Titan Crypto holds users' assets with custodian Apex Crypto LLC. While Apex Crypto is a registered broker-dealer, they specifically state in their legal disclosure that ​​"existing insurance products are inadequate to cover potential losses if an exchange fails and/or digital wallets are hacked".
Titan Crypto pricing
Titan Crypto has a simple fee structure.
For accounts with less than $10,000 in net deposits, the fee is $5.
For accounts with more than $10,000, the fee is 1% of AUM (assets under management). So for an account of $20,000 it would be $200.
There are no other fees.
Titan Crypto supported countries
Currently, like all other Titan's investment strategies, Titan Crypto is only available to US residents. Given all the regulatory requirements associated with holding crypto, it's unlikely that Titan Crypto would soon be available outside of the US.
What is Coinbase?
Coinbase is probably the first thing that comes to mind when people think about buying crypto. At least, in the US and Europe, Coinbase is the easiest way to enter the crypto market.
Coinbase was founded in 2012 as one of the early crypto exchanges but has since then developed into a whole ecosystem of products.
Investing in crypto on Coinbase
Unlike Titan Crypto, Coinbase doesn't have any ready-to-use investment strategies.
Instead, users can buy a wide range of crypto assets, paying by bank cards or by wiring money from their bank.
As of November 2021, Coinbase supports over 100 different crypto assets and regularly offers new tokens.
How to make money on Coinbase
That's the hard part!
In general, there are three ways to invest in crypto.
Buy and hold main crypto assets: Bitcoin and ETH would be the most obvious candidates. This simple strategy worked well over the past few years. As of 2021, these assets are relatively well-capitalized, they aren't likely to continue on the same trajectory.
Actively trade a few assets: Buy assets that are undervalued or hop on trends. Of course, this is easier said than done because there are hardly any fundamental drivers in crypto. And relying on hype could be a recipe for disaster as usually tokens get discussed on social media after they have gone up in price.
Build a portfolio and rebalance regularly: This could be as simple as capital weighted (i.e. hold more of each crypto with larger market capitalization) or equal weighted (just hold 10 assets, putting 10% of the portfolio in each). The key would be to rebalance regularly to buy more of the cheaper assets and sell some of the appreciated assets to take profits.
For most crypto newbies, the most viable option is to buy and hold. While it's not unlikely to outperform more sophisticated strategies, it requires minimum time and skills.
Coinbase security
As a public company with shares trading on NASDAQ, Coinbase is very serious about security.
Most importantly, 98% of Coinbase's customer funds are stored offline.
However, while Coinbase states on its website that it's "protected by insurance", this mainly applies to fiat cash (i.e. US Dollars or Euros) held on user accounts. The insurance for crypto assets specifically notes that it does "not cover any losses resulting from unauthorized access to your personal Coinbase or Coinbase Pro account(s) due to a breach or loss of your credentials."
Coinbase pricing
As an exchange, Coinbase charges fees for each transaction, starting at 0.50% per trade and decreasing lower for high-volume users.
Compared to other exchanges, fees on Coinbase are relatively high and add up if you make a lot of trades.
Additionally, Coinbase charges a 1% fee to convert and withdraw crypto to fiat currencies (e.g. USD).
Coinbase supported countries
Coinbase works in over 100 countries but not all features are available universally.
The Alternative to Titan Crypto and Coinbase: Stoic AI
If you're planning to invest in crypto over a period of several years, one alternative is to use an algorithm to build and rebalance a portfolio of altcoins.
Why altcoins?
Unlike Bitcoin and other large cap cryptocurrencies, altcoins are less capitalized assets. They typically have market caps of several billion dollars. While many of these coins might disappear, some will deliver 10x returns or even higher.
To balance the risks, a portfolio would need to include dozens of different cryptocurrencies.
After that the key would be to rebalance regularly: sell losers early and take profits from winners to reduce the risks of price corrections.
If that all sounds complicated, there are some good news.
Stoic AI can do all that for you on full autopilot.
Developed by the Cindicator team, Stoic is an app for smart crypto investment. It uses hedge fund-grade quantitative research and AI to build and rebalance a portfolio of altcoins. Since March 2020 until its all-time high in November 2021, Stoic generated a return of +2,628%.
Importantly, any market dips — like the one in January 2021 — are often great buying opportunities.
Stoic is available to anyone with at least $1,000 on Binance or Binance US exchange. Stoic connects to the user's exchange account via API, which means that funds never leave the exchange.
The fees are 5% from the starting balance.
Titan Crypto vs Coinbase at a glance

The easiest way to take advantage of the cryptocurrency bull run is to connect Stoic AI to a Binance account or sub-account (if you don't have this feature enabled, Stoic will help to unlock it).
Stoic will automatically build and rebalance a long-only portfolio of assets using a quant strategy. So far, this is has worked well: since March 2020, Stoic generated a return of +2,628% as of November 2021.