Meta Long Only Strategy is Live inside Stoic AI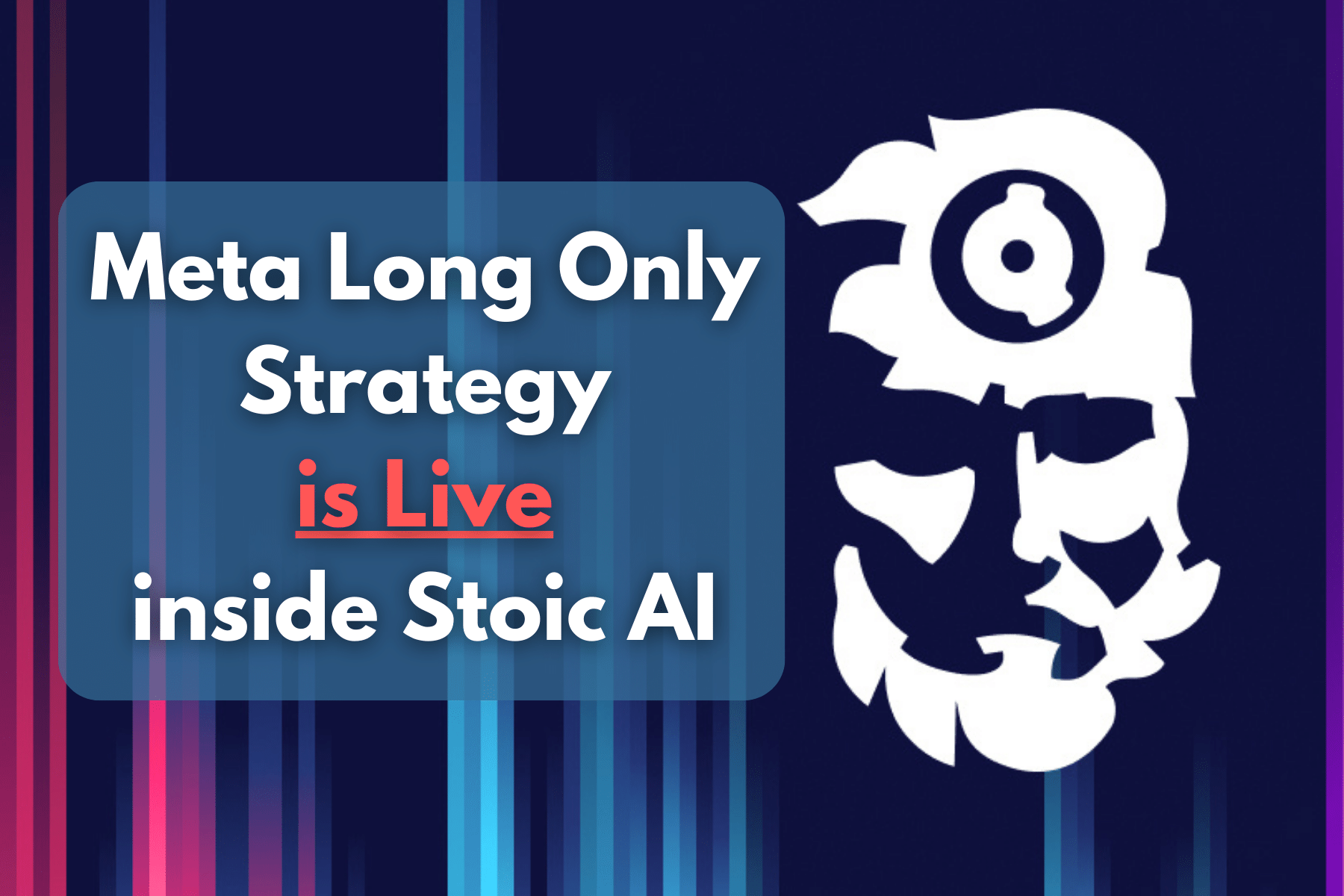 ---
Time to celebrate as our cutting-edge team at Cindicator releases the latest, groundbreaking strategy for the Stoic AI app, Meta Long Only. We are excited for the opportunity of presenting Stoicians with an esteemed trading solution to help elevate portfolios around the globe in 2023 and beyond.
This article will provide investors with a baseline understanding of what the strategy is, how it works, and how to best get started.
If at the end you still have questions, feel free to reach out to [email protected] to submit a query, or join our Telegram chat for further information.
Let's dive right in.
What is Meta Long Only strategy?
Meta Long Only is a dynamic portfolio strategy that swiftly adjusts sub-strategy weights in order to favor top performers in volatile markets. The strategy fully adapts exposure to Bitcoin and altcoins based on various market conditions with the goal of optimizing returns.
Meta Long Only has been percolating on the burner like a fresh pot of coffee, as the sub-strategies stack has been in use for a long time by our existing Meta strategy. As of today, those strategies are now live inside of Stoic AI for Binance Global users to take advantage of added BTC exposure.
How does Meta Long Only work?
Meta Long Only is an auto tuned portfolio strategy that leverages a dozen long-only sub-strategies simultaneously. This unique mechanism is put in place to rigorously outperform the crypto market's price development over time.
Meta Long Only holds over 100+ sub-strategies in its arsenal, incorporating diverse ideas based on years of quantitative research. Each particular sub-strategy is assigned weights based on actual performance, which is also known as rebalancing.
Here is how rebalancing works inside of Meta Long Only:
Once per week, Meta Long Only selects the top 20 sub-strategies from its pool of 100+ to operate with.
Once per day, Meta Long Only assigns weights between the top 20 sub-strategies
The weights between assets inside these sub-strategies are adjusted on an hourly basis.
The maximum exposure to a single asset is limited within the portfolio. For example, the maximum allocation to Bitcoin is set at 75% of the portfolio, while, for any other asset, the limit is set at 30%.
What makes Meta Long Only so great?
To put it plainly, the performance beats all popular benchmarks, even with a high BTC share. When our company releases a new strategy, it is because we are confident that it will benefit our members.
The following chart displays metrics from January 2021, through June of 2023. Meta Long Only is the strategy marked in purple and is outperforming the most popular crypto indexes: Top 10 equal-weighted and Top 30 capital-weighted.
The Top 10 equal-weighted index is where the 10 largest tokens by market cap all get equal 10% share. The top 30 capital-weighted index is where the 30 largest tokens by market cap receive share size proportional to how large their market cap is.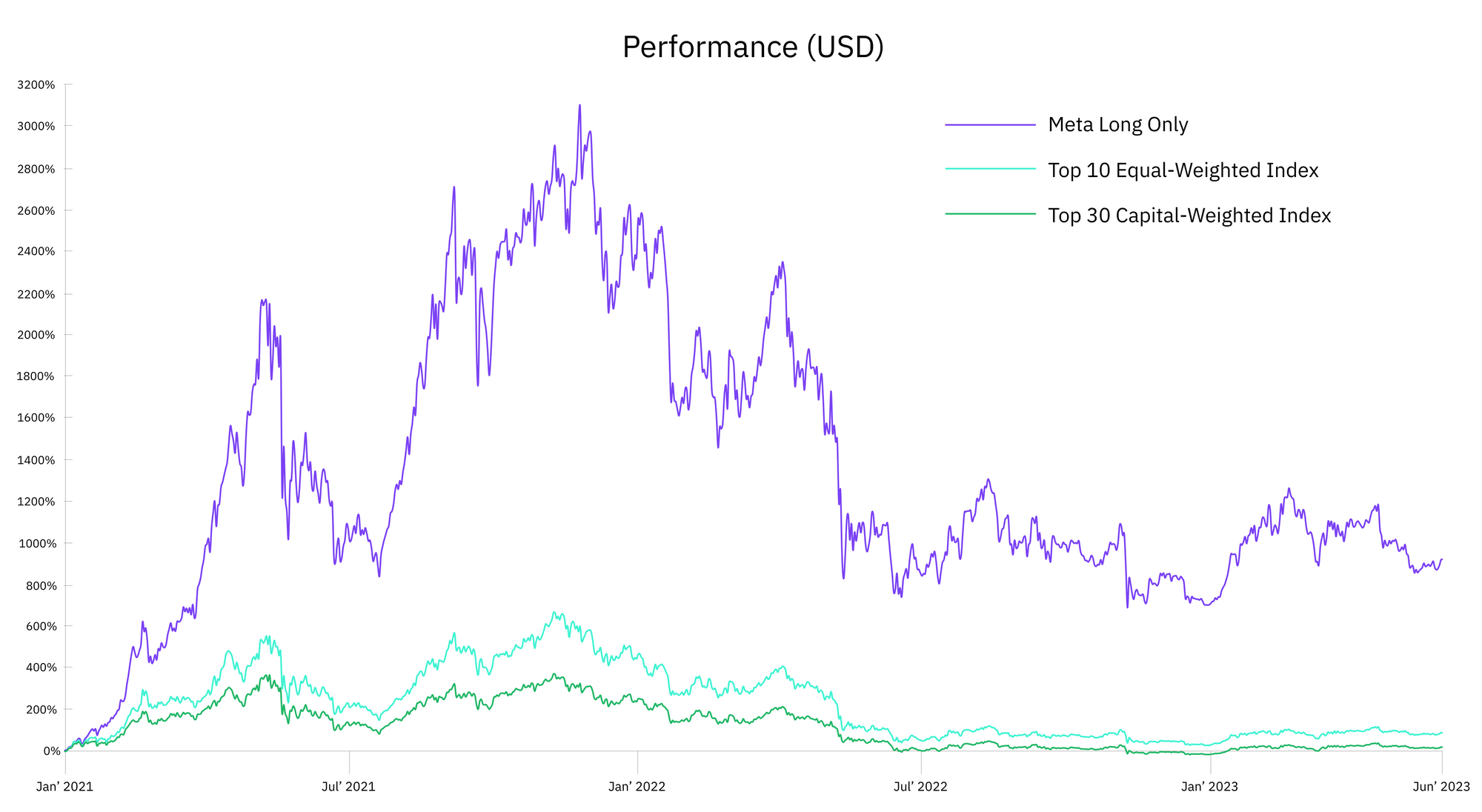 As mentioned earlier, Meta Long Only continually sifts through dozens of sub-strategies and quickly adjusts the weights to favor the top-performing assets in the current market environment. The strategy can possess significant exposure to BTC based on market conditions if deemed necessary.
The chart below displays how Meta Long Only changes its allocation between Bitcoin and altcoins. The strategy increases the portfolio's share in BTC (purple line) during times when Bitcoin market dominance (light green line) starts to increase.
For example, at the beginning of this year and in March, when Bitcoin was outperforming the market due to the US banking crisis, Meta Long Only reflected this and allocated more weight to Bitcoin. Thanks to this algorithm, the strategy adapts to different market environments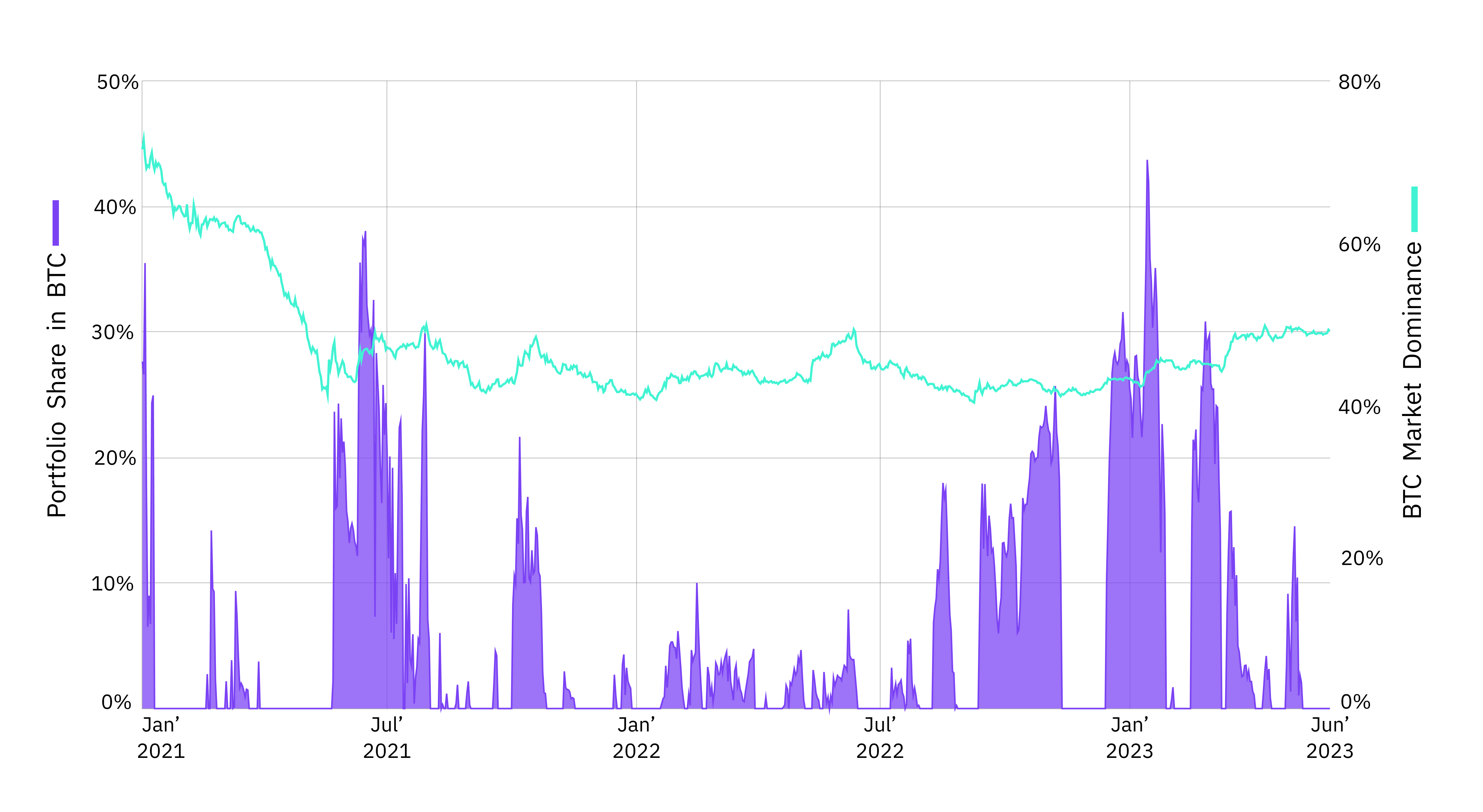 Meta Long Only can obtain significant exposure to altcoins based on market conditions, if necessary. The enormous pool of sub-strategies used by Meta Long Only is constantly under heavy evaluation. For example, underperforming strategies are removed from the list, while newly developed ones deemed beneficial are added.
Clients receive an auto tuned portfolio that does not require constant monitoring of news and market fluctuations, eliminating the stress and headache that comes with manual trading. In addition, Meta Long Only strictly uses Spot trading accounts, no Futures trading required.
Meta Long Only Prerequisites
In order to use Meta Long Only, 2 simple prerequisites need to be fulfilled:
Users must have a Binance Global account
and a minimum of $1000 to invest into the strategy
In order to opt-in to Meta Long Only, Stoic members will need an active Binance Global account. Coinbase's high trading fees would not be profitable for Meta Long Only due to its high turnover, while Binance US lacks the necessary liquidity required for the strategy.
Meta Long Only effectively trades starting from a portfolio with a minimum of $1000. Any amount less than $1000 will not allow the strategy to perform efficiently, resulting in poor progress.
Let's get started!
Who's ready to get started with Meta Long Only? Follow these simple steps to success:
If you haven't already, sign up for a Stoic AI account
Sign up / fund a Binance Global account with a minimum of $1000
Choose the Meta Long Only strategy inside the Stoic app
Follow the steps to connect your Binance Global account to Stoic
That's it… Happy trading!
Please read on for frequently asked questions regarding Meta Long Only
Meta Long Only FAQs
Who is best suited for Meta Long Only?
Meta Long Only is suitable for investors seeking superior exposure to the entire crypto market long term and those prepared to weather market volatility.
When is the optimal time to use this strategy?
The strategy tracks the overall price movement of the crypto market, outperforming benchmarks through intelligent weight rebalancing across multiple sub-strategies. Optimal investment time occurs during market corrections.
Is the current version of Long Only no longer effective?
No, the current version of Long Only is still functioning as intended, aiming to outperform other altcoin indexes in terms of growth. However, in the current market, it may not perform as effectively as indexes that have exposure to BTC, due to the evolving narrative and lack of BTC exposure.
How much money do I need to invest?
The minimum requirement for Meta Long Only is $1000. No maximum limit, feel free to fund your Binance Global account with as much as you like over the $1000 mark.
Why would investors choose Meta Long Only over the original Long Only strategy?
During our assessment of Stoic Long Only's performance compared to other benchmarks, we adopted an objective perspective.
While Long Only was initially on track to outperform its benchmark, our analysis reveals that since March, the strategy has underperformed benchmarks that have a substantial allocation to Bitcoin. Thus, we decided to pivot our product and offer an alternative strategy with added allocation to BTC.
The original Long Only strategy is an uptrend king that possesses superior results during altseasons with the innate ability to outperform Meta Long Only.
Is Stoic's Meta Long Only strategy secure?
We take security very seriously. The app does not have the ability to withdraw funds out of the account and can only execute trades on your behalf. Our team of security specialists enforce the company's zero trust principles, risk management compliance, and systematic checks to provide a secure environment trusted by thousands of happy clients.
What should I do after Meta Long Only is connected with my Binance Global account?
No further action is necessary. Allow the app to do all the heavy lifting to fully manage your portfolio. Feel free to check in occasionally to view the performance inside your account. Please do not manually place any trades within your connected Binance Global account. Only manage Stoic from inside of the Stoic app.
Further questions?
Feel free to reach out to [email protected] to submit a query, or join our Telegram chat to join in the lively conversations happening 24/7 around the globe.
---
Related articles
Stoic AI: Unlocking the Power of Stoicism in Crypto Trading
Unveiling Potential Issues That AI Will Cause: A Critical Examination
The Long-Term Prospects of Cryptocurrency: A Paradigm Shift or Passing Fad?
Who is Cindicator?
Cindicator is a world-wide team of individuals with expertise in math, data science, quant trading, and finances, working together with one collective mind. Founded in 2015, Cindicator builds predictive analytics by merging collective intelligence and machine learning models. Stoic AI is the company's flagship product that offers automated trading strategies for cryptocurrency investors. Join us on Telegram or Twitter to stay in touch.
Disclaimer
Information in the article does not, nor does it purport to, constitute any form of professional investment advice, recommendation, or independent analysis.