Is this the End for Coinbase?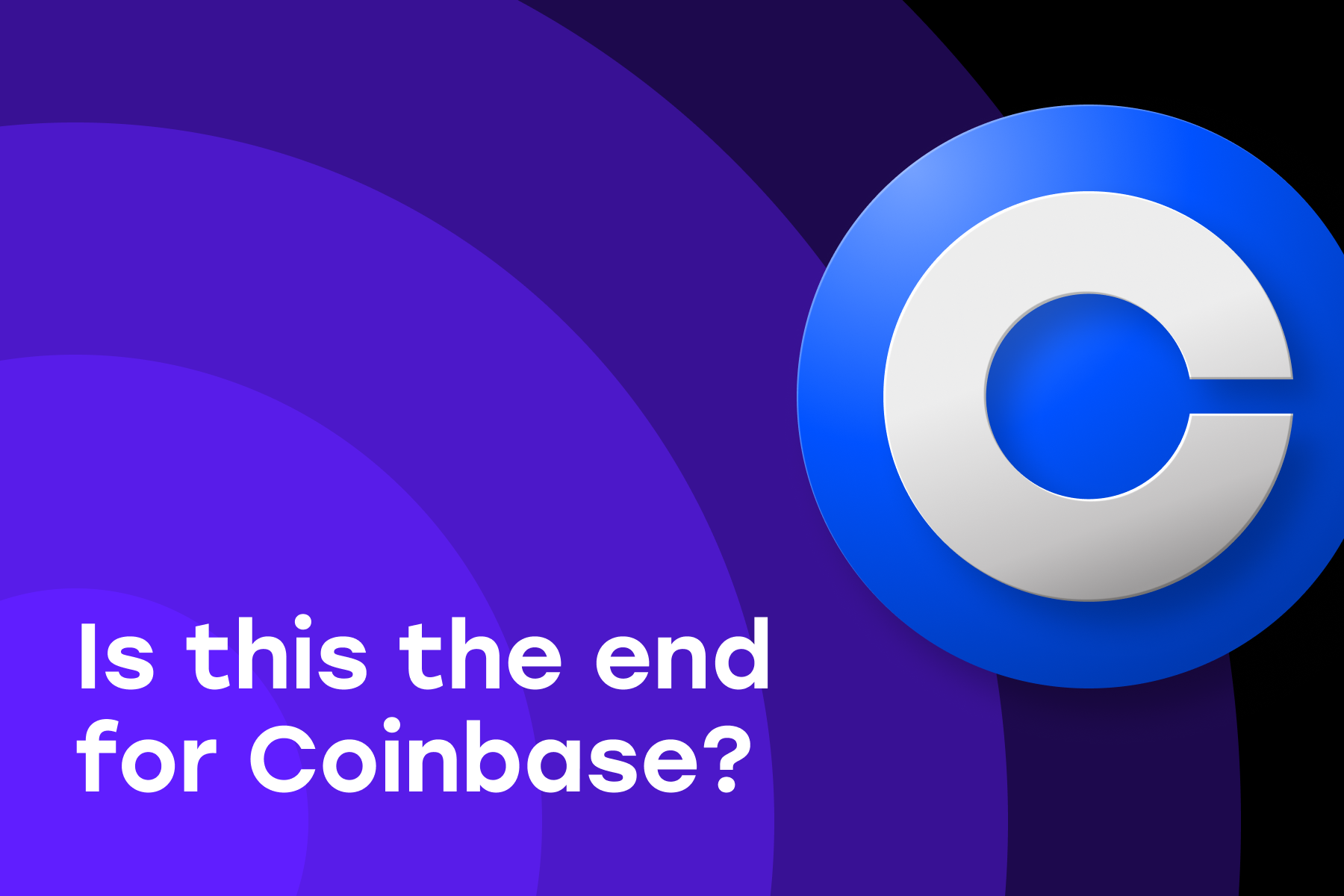 SEC investigates Coinbase for allegedly selling "securities" to retail investors
Coinbase, a popular cryptocurrency exchange, is being slapped in the face by the SEC for allegedly offering "unregistered securities" to investors on their platform. The number of tokens on the platform has been steadily increasing and is now poised at over 150 different assets available for trading.
The recent SEC accusation is due in part to the insider trading scheme that got pursued last week, resulting in 3 former Coinbase employees getting sued by the government agency. The other part is the increasing number of assets available for investors to trade, causing the SEC to start snooping even closer into the company's offerings.
Who are these organizations?
The SEC is short for the US Securities and Exchange commission and is in charge of holding down the law when it comes to United States companies and their security offerings. One of the main roles of the SEC is to protect retail investors from harm, and to keep companies in check with the current laws and regulations.
Coinbase is a publicly traded cryptocurrency company in the US that offers a multitude of trading services to users on the platform. The company started in June of 2012 initially offering only a handful of crypto assets such as Bitcoin, Ethereum, and Litecoin. Coinbase is led by CEO Brian Armstrong, as well as a team of professionals in the Web3 space.
Due Diligence
The fact that the SEC is now stepping in to investigate tokens listed on Coinbase is quite surprising since exchanges go through meticulous due diligence processes before officially listing an asset on their platform.
Binance US, a branch of Binance Global, is a cryptocurrency exchange that has a lower number of trading pairs coupled with a lower trading volume, yet they seem to be fully compliant with the SEC laws and regulations.
The investigation is causing confusion and disarray in the marketplace as Coinbase runs through a regular review process with the US Securities and Exchange Commission to remain in the clear on future decisions. Coinbase staff meets with members of the SEC to discuss up and coming tokens to be listed on the exchange.
In a recent article published by Paul Grewal, Chief Legal Officer for Coinbase, the statement was made clear, "Coinbase does not list securities on its platform. Period." The securities fraud charges were directed towards 7 different crypto assets, none of which are securities according to Coinbase.
2/ We 100% disagree with the SEC's assertion that any of the crypto assets we list are securities.

— paulgrewal.eth (@iampaulgrewal) July 21, 2022
Regulatory Clarity
To put it plainly, a lack of regulatory clarity is the common denominator in legal issues such as this. A situation involving regulation by enforcement is a clear indication that the US does not have regulatory clarity and must rely on forceful actions such as direct litigation without explanation.
Coinbase, as a result of the lack of clarity, decided to file a petition with the SEC regarding a clear set of rules to help the overall crypto ecosystem grow and develop within a legal framework. Not only is it a frustrating ordeal for Coinbase and other exchanges to deal with, but the lack of regulatory clarity is hurting and confusing retail investors, the very people that the SEC aims to protect.
Right now, what exists for crypto regulation standards is an old legal test which dates to a Supreme Court decision from 1946. The dated decision deems a token a security when investors give money to fund a company, then profiting from the efforts of said company. The problem here is that blockchain networks are not companies but are separate entities altogether, creating a need for a new regulatory framework to exist.
Is Coinbase Done For?
Is this the end for the popular digital asset exchange? Will the SEC end up shutting the company down because of this forced litigation? It is highly unlikely that the situation would come to that level of extreme action.
What may end up happening because of the investigation is that Coinbase would need to register as an exchange with the SEC. There seems to be something stirring underneath the surface of the SEC investigation, but time will tell what the firm's true motives are behind their methods.
Though cryptocurrencies and blockchain technology are spearheading the way for Web 3.0 to flourish, it is important to do your own research and make wise decisions when choosing to invest in digital assets. The team at Cindicator would be happy to answer any questions you have regarding cryptocurrency investing. Feel free to join our Telegram channel and we will do our best to serve you.
Related articles
Is Crypto Going to Crash Again?
What is Web3? - Web 3.0 vs Web 2.0
Polygon Joins Disney Accelerator Program
Crypto Gaming Explained: Why Play Crypto Games?
Disclaimer

Information in the article does not, nor does it purport to, constitute any form of professional investment advice, recommendation or independent analysis.