3Commas vs Bitsgap: An In-Depth Review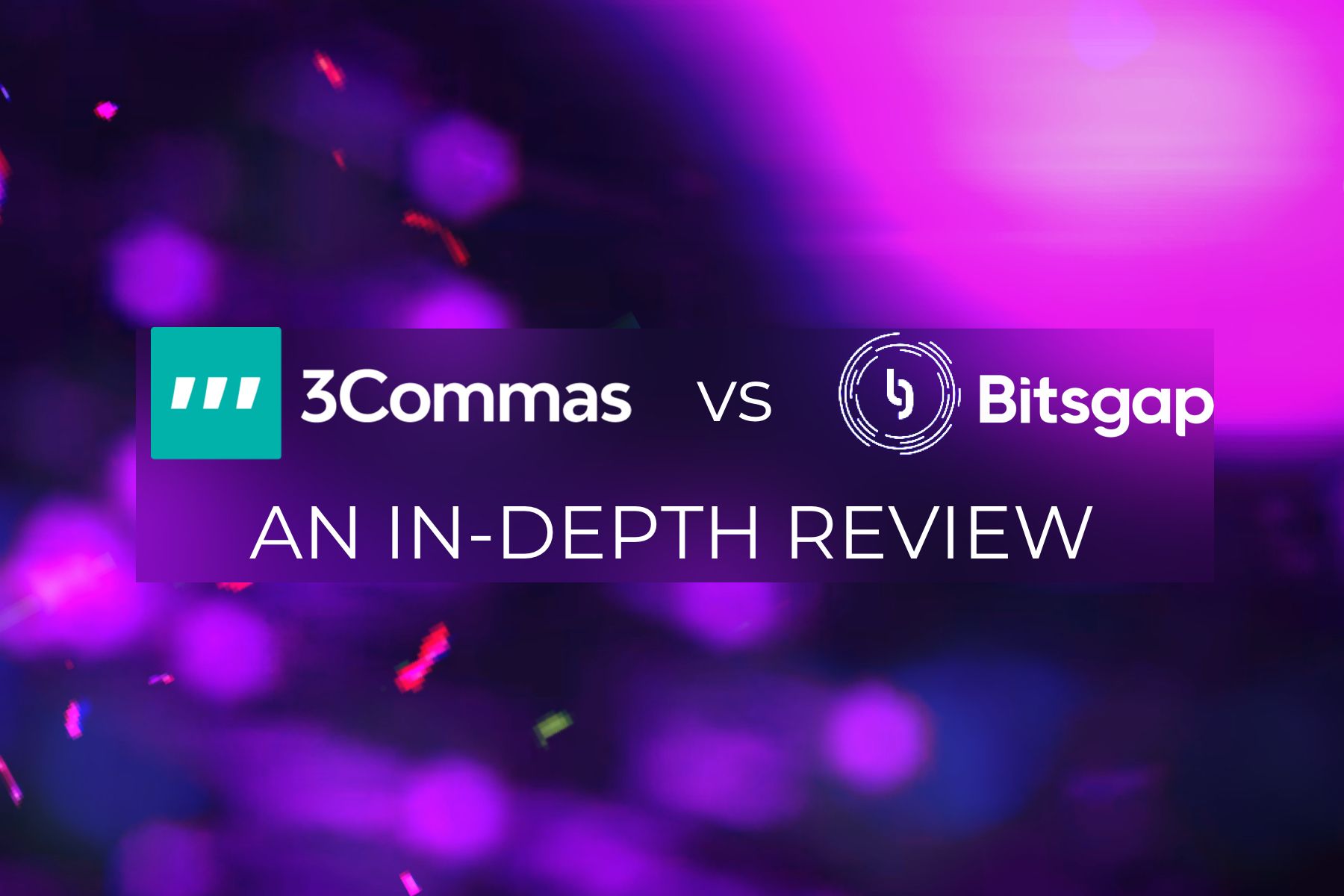 Over the past few years, crypto trading bots have emerged from an idea to small industry. Dozens of companies now offer tools for automated trading. For newcomers to crypto, it is sometimes hard to find the right crypto bot.
This post will review 3Commas and Bitsgap, two popular platforms for setting up and running crypto trading bots. For each crypto trading bot, we'll review the strategies, profitability, security, pricing, and supported exchanges.
What is 3Commas?
Founded in 2017, 3Commas is a suite of tools for automated crypto trading.
3Commas became one of the first companies to join the Binance Broker program in 2019. Today the company trades billions of dollars every month for its users.
3Commas strategies
With 3Commas, users can build their own automated crypto trading strategy. This includes "smart trading" orders across several exchanges and trading bots.
3Commas offers several types of trading bots.
DCA bots: these are bots that run dollar-cost averaging (DCA) strategies, which essentially regularly buy crypto for a fixed sum of fiat money. DCA helps to avoid buying at the very top and would in many cases offer a better average entry price. This is useful for building a long-term position. However, in a strong bull market, it's better to just buy with a lump sum as early as possible — DCA would only increase the average buying price. The user has lots of settings to choose from or can just use a bot preset and select 'conservative', 'moderate', or 'aggressive' settings.
GRID bots: these bots aim to buy low and sell high, creating a grid of orders. This type of crypto bot is more complicated to set up because you need to correctly predict the upper and lower limit. If you set the lower limit to low, the crypto bot wouldn't enter a position. And if you set the upper limit to high, your trading bot wouldn't be able to exit the position. The alternative is to use targets suggested by 3Commas' AI.
Options bots: as the name suggests, these bots run options trading strategies and only work on Deribit, a crypto options exchange. Unlike other crypto bots, 3Commas's Options Bot doesn't run a continuous automated strategy. Instead, it's more of a visual way to create advanced options strategies such as butterflies, condors, or strangles.
Marketplace: rather than tinkering with crypto bot settings by themselves, users can also subscribe to copy one of the existing bots. These templates are also customizable.
3Commas profitability
It is hard to judge the profitability of 3Commas because it's up to the user to define the strategy for each crypto trading bot.
Bot templates available in the Marketplace post very limited information about profitability. The Marketplace's first page shows the past Each bot's page also shows the daily summary profit and profit by day — also for the past month.
How safe is 3Commas?
Like other platforms for crypto trading bots, 3Commas connects to exchanges via API. Users never transfer crypto to 3Commas.
Because crypto stays on the exchanges, the only thing 3Commas has to secure is the storage of API keys.
However, even if the keys are compromised the attacker would not be able to withdraw crypto because API keys typically only request the rights to read and trade. Just in case, be extra careful when creating API keys and make sure that you don't grant the right to withdraw assets.
Finally, like other serious crypto platforms, 3Commas strongly recommends setting up 2-factor authorization.
3Commas pricing
Currently, 3Commas has several monthly plans, ranging from free to $99 a month. There are also 50% discounts if fees are paid for the full year.
Most users start with the 'free' plan, which already includes bots, one of each: DCA, Grid, and options.
The next plan that gets unlimited DCA bots is Advanced for $49 a month.
However, to run more than one Grid bot, a user would need to switch to a PRO plan for $99. That's the most expensive option that includes all the features.
3Commas supported platforms
3Commas officially supports 23 different cryptocurrency exchanges. That's when it comes to its SmartTrade features for advanced orders.
Only some of these exchanges work with 3Commas crypto trading bots. DCA and Grid bots can be connected to Binance, Binance US, FTX, Coinbase, Bybit, and Bitmex. It appears that the Options bot only works on Deribit.
Now that we've reviewed 3Commas' strategies, profitability, security, pricing, and supported exchanges, let's look at 3Commas vs Bitsgap.
What is Bitsgap?
Founded in 2017, Bitsgap is a platform for crypto trading across different exchanges, including crypto bots and arbitrage strategies.
Bitsgap is built by a team of traders, security experts, and marketers. According to their website, they haven't taken money from outside investors and bootstrap the platform with their own funds.
Bitsgap strategies
The main feature of Bitsgap is the smart trading platform that works across different exchanges. The platform has several types of advanced orders, including built-in stop-loss and take-profit orders as well as shadow orders that don't show up in the exchange's order book.
Besides these smart execution capabilities, Bitsgap offers several crypto trading bot strategies:
Grid bot: There are two configurations of this strategy, one for a sideways market (Sbot) and for a rising market (Classic). The bot creates a grid of orders in the price range, which is defined by the user.
Combo bot for Futures market: short for combo bot, this setup includes a Grid and DCA bot in one. This crypto bot can work in 'Long' (to generate returns when the price rises) or 'Short' (to generate returns when the price falls) modes — this is up to the user to select one. There are also about 10 other different parameters and definitions to set up. Most importantly, the user can set leverage to up to 10x. Overall, it's a flexible strategy that could be tailored to any market. Yet the use of leverage can wipe out the whole deposit if used without properly managing risks.
As Bitsgap notes on their website, these strategies are most appropriate for swing or neutral markets. In a strong bullish or bearish market, these crypto trading bots might actually be inferior to other strategies.
Bitsgap profitability
Like with 3Commas, it is hard to evaluate the profitability of Bitsgap's crypto trading bots. Again, the user must select the strategy and determine the upper and lower ranges for the grid bot.
One of the advantages of Bitsgap over other crypto bots is the ability to set up stop-losses and a 'trailing up' option. Stop-losses aim to minimize losses in case the trade goes against the bot. And the trailing up feature moves the entire grid upwards if the price continues to increase.
Given these two features, Bitsgap might show better results than other crypto trading bots, all being equal (i.e. the trading pair, lower and upper range for the grid).
How safe is Bitsgap?
Like 3Commas, Bitsgap doesn't take custody of users' crypto funds and only connects to their exchange accounts via API.
All the information stored on Bitsgap servers is encrypted 2048-bit protocols and kept on a secure network with a firewall.
As an additional layer of security, Bitsgap strongly recommends that users enable 2-factor authentication.
Bitsgap pricing
Bitsgap has three different monthly subscriptions: $19, $45, and $110 a month. There is also a 14-day trial for any of the plans.
The Basic plan includes 2 active trading bots. The plan has a monthly trading volume limit of $25,000, which doesn't look like much.
The Advanced plan ($45/month) already has 5 active trading bots. The trading limit is $100k.
The PRO plan ($110/month) allows up to 15 active trading bots — with no trading limit.
Bitsgap's supported exchanges
Bitsgap works with Binance, Kraken, Bitfinex, and 25 other crypto exchanges.
The Alternative to 3Commas and Bitsgap: Stoic
This post has compared 3Commas vs Bitsgap, reviewing strategies, profitability, security, supported exchanges, and prices.
One of the alternatives to 3Commas and Bitsgap is Stoic.
Just like other bots, Stoic by Cindicator securely connects to the user's crypto exchange account via API. This means that the funds never leave the account and the user can withdraw funds at any time.
Yet unlike 3Commas or Bitsgap and most other crypto trading bots, Stoic offers a ready-to-use crypto trading strategy.
Stoic's strategy is a long-only portfolio of altcoins with daily rebalancing. Stoic considers all crypto assets on Binance with at least $10 million in daily trading volume. The weightings for each position is based on quant research.
Since Stoic publicly launched in September 2020, the strategy returned +2,356%. This outperforms both Bitcoin and an equal-weighted portfolio of cryptocurrencies such as Cryptowise 20.
3Commas vs Bitsgap vs Stoic at a glance
The table below summarizes 3Commas vs Bitsgap — and Stoic as an alternative to crypto trading bots.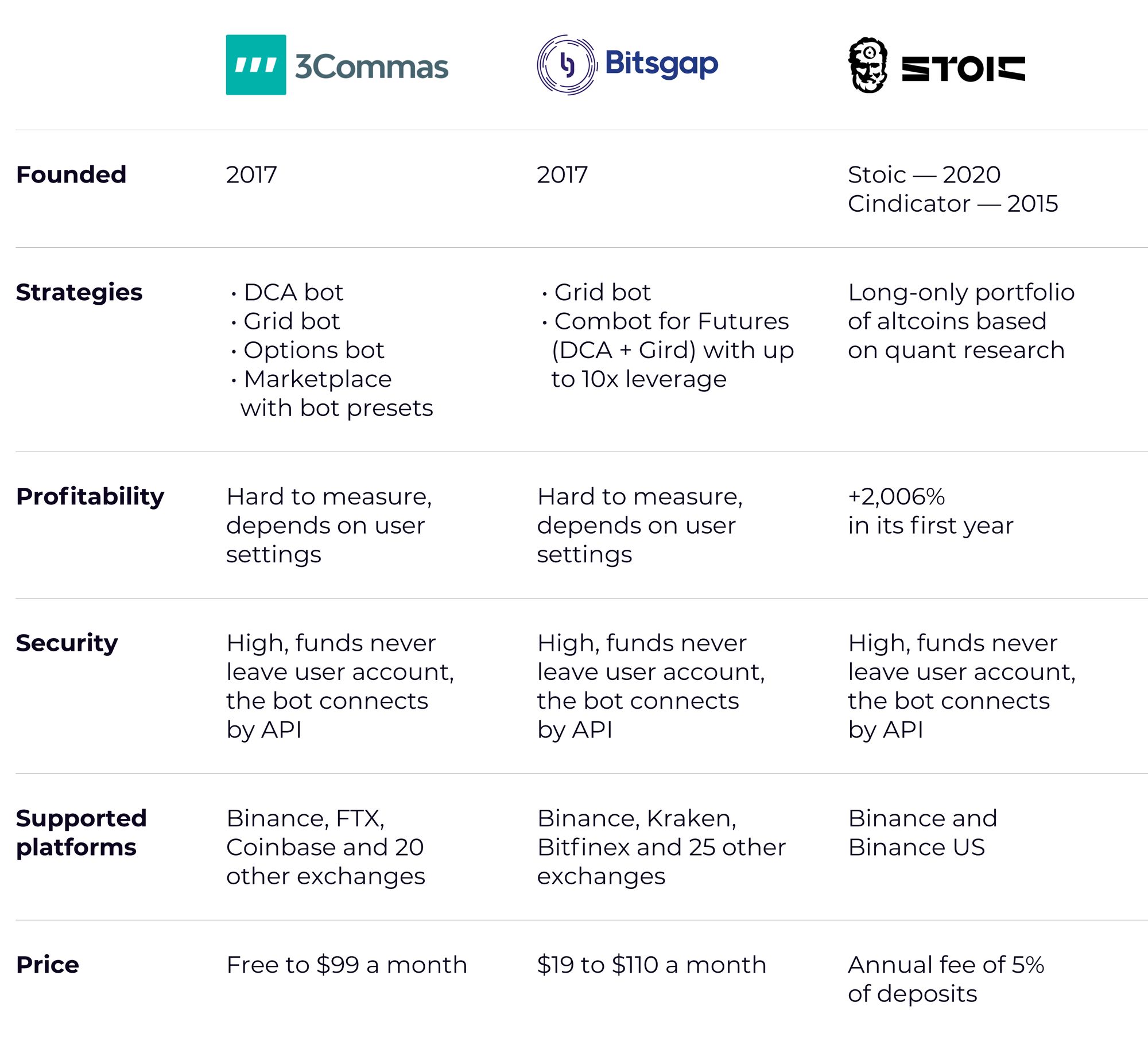 Overall, by pitting 3Commas vs Bitsgap, we can see that both platforms offer a wealth of different features for automated crypto trading and would be great additions to any advanced traders.
On the other hand, Stoic offers a smart way to invest in the crypto market without spending lots of time on developing a strategy. Stoic's ready-to-use altcoins strategy already showed impressive results.
And with a minimum starting balance of $1,000, almost anyone can try Stoic.
10,000+ users already connected Stoic!